Due to technical difficulties, this week's post was delayed until today. We apologize and thank you for your patience!
Congrats to Jacqueline
, our 49th entry in last week's Giveaway from
Boozy Baubles!
We had lots of entries for her beautifully upcycled translucent earrings made from a vintage lavender plate and are so happy you participated, and another thanks to Cheri, too, for sponsoring the giveaway!
This week's giveaway is another example of the creative upcycling re-uses for vintage glass! Elizabeth from
Vintage Glass Totems and Good Memories Cafe
has created this mini totem for your garden out of a bud vase, vintage sea blue colored ashtray and an old glass percolator top! It would make a whimsical addition to your summer garden as you can see~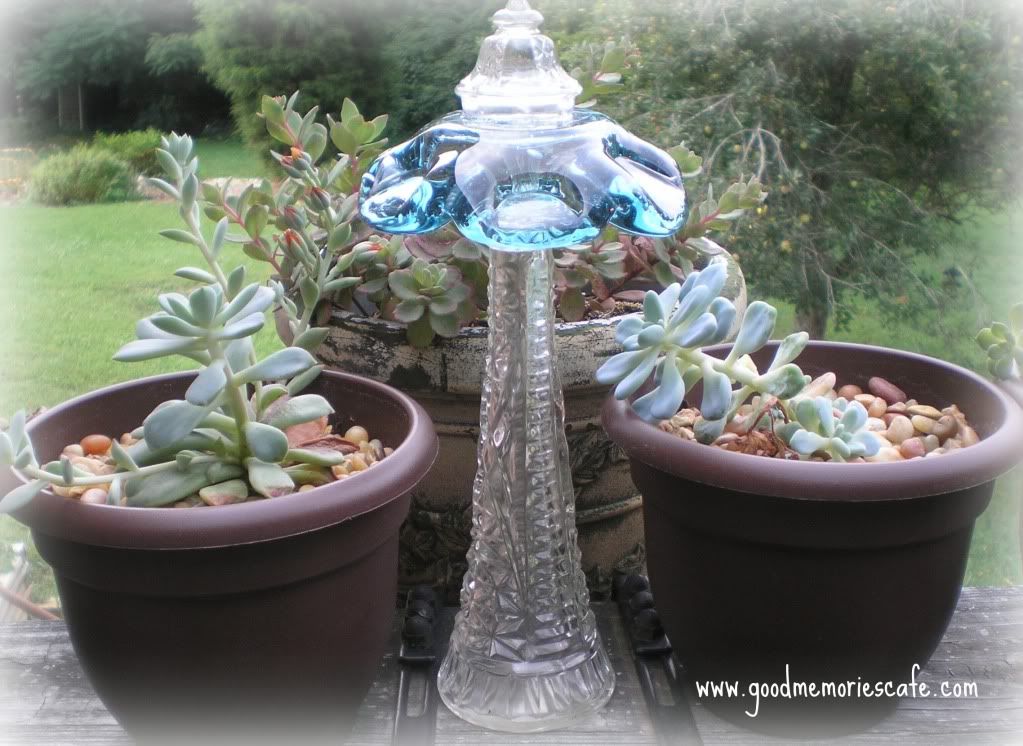 And here's another look~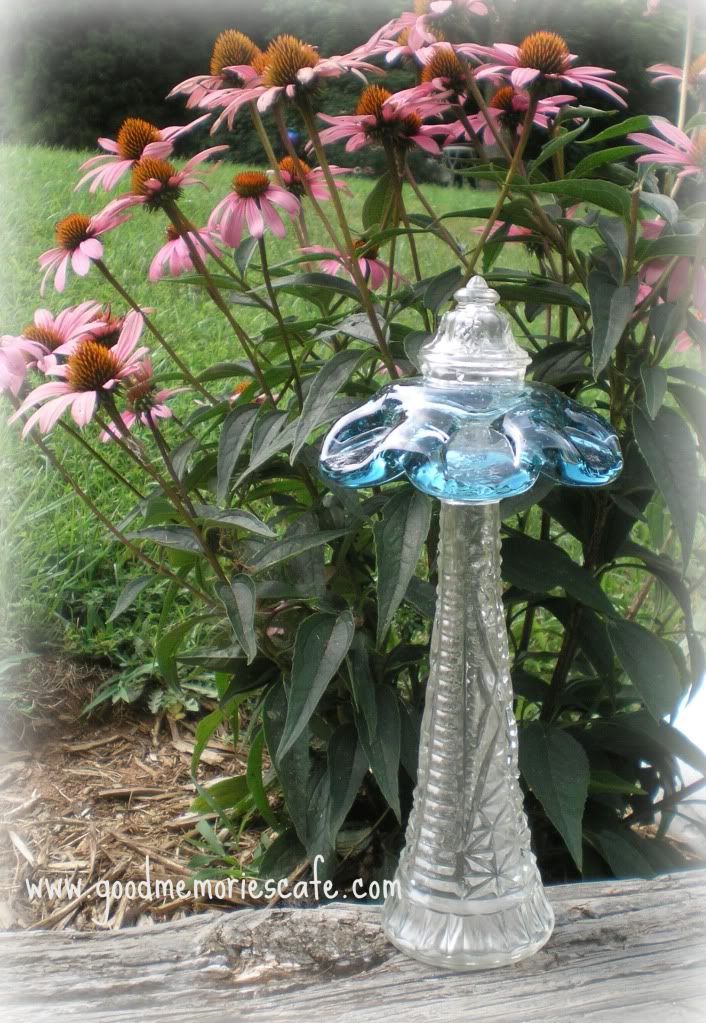 Aside from her Vintage Garden Totem shop, Elizabeth also sells vintage and handmade
"Good Memories" in her other Etsy shop
. She's always wanted her own shop, a studio where she can share her "memories" and so she left the corporate world to find her creative niche!
You can also visit Elizabeth's blogspot~ "A place where
'stuff' becomes a good memory". Regular features like 'Wordless Wednesday' and 'Sunday Sayings' offer a glimpse into her creative inspirations and thoughts anyone can enjoy...
By perseverance the snail reached the ark.
Ready to enter our Giveaway?
First you must be a follower of Love 2 Upcycle to enter~ not a follower? Just look to the right and click on the 'Follow' button!
Then you can submit up to 4 entries, each must be entered HERE in a separate comment.
4. 'Tweet' or 'Like' this Giveaway using our Like or Tweet button or Share a link to our Giveaway on your Facebook fan page.
Deadline to enter is Wednesday, July 27th at midnight.
The WINNER will be randomly drawn and announced with our next giveaway~ Thursday, July 28th.
Good Luck!
Would you like to Sponsor a Giveaway on Love 2 Upcycle? You don't have to be a member of Upcyclers to be a sponsor, all Etsy sellers of upcycled or eco-friendly products are welcome! But of course, we'd love for you to join the team!