We're feelin'
groovy
again~ this time with
Groovy Garbage!
You'll love the creativity and innovation of Richie and Jane, a husband and wife team we are proud to have on our team! They're offering a pair of their revived rubber, inner tube earrings, that have been interwoven with salvaged coral and black glass beads onto sterling silver headpins and hung from sterling silver french earwires.
But before we tell you more, we'd like to thank all of our followers who entered and checked out last week's giveaway, as well as Lynn from
Plarny Yarn Creations!
And CONGRATULATIONS to
RoChelle
, our 23rd entry and winner of the water bottle with Plarny Yarn carrier! Way to go, RoChelle! Love your profile pic, by the way!
Groovy Garbage
is about to celebrate their first anniversary on Etsy! They opened their new shop on Feb. 23, 2011~ but they've been upcycling rubber inner tubes, vinyl signs and beach chairs into well-crafted, stylish products for years. As they state on their website, they know that much of the garbage in landfills will never decompose, so their goal is to "divert as many of these things from the landfills and into your hands". Here's more from their website about the company's line:
All of the original
GROOVY GARBAGE
items are handmade. At this time there are three Groovy Garbage collections~
RUBBER REVIVAL- all made from recycled inner tubes, REVAMPED VINYL- made from recycled vinyl banners and signage and SEA IT AGAIN- these items are made from recycled beach chair/umbrella fabric. They are all one of a kind items due to the variation in design and the actual differences in the reclaimed, recycled or salvaged materials. All of the materials are synthetic, non-organic, and could be considered vegan due to the fact that no animals are used or harmed in the making of our products.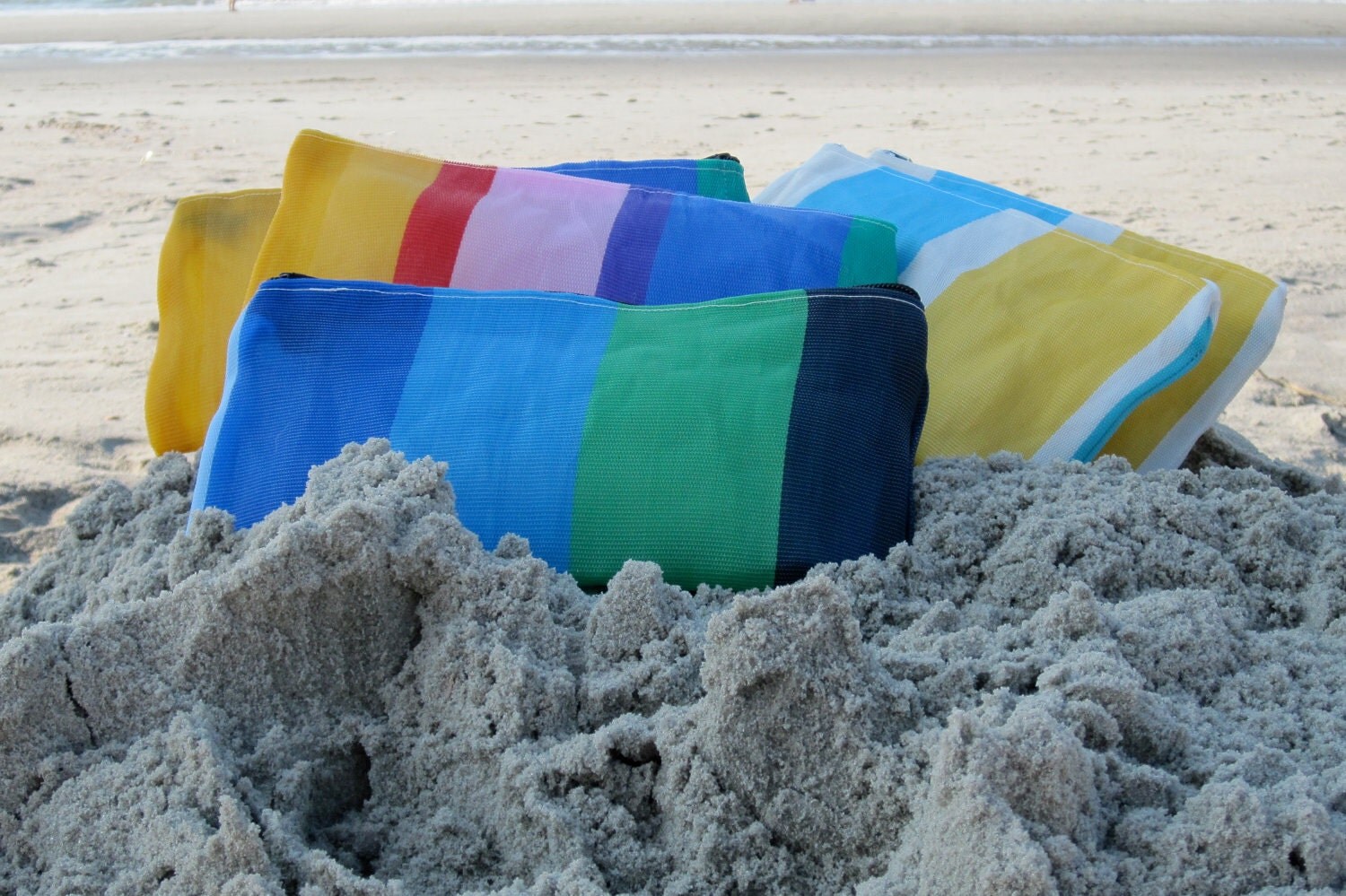 Sea It Again
We collaborate with local businesses and participate in many non-profit organizations and events. For a specific item, design or bulk sales, please contact groovy garbage. At GROOVY GARBAGE it is our mission to use as much recycled, reclaimed, upcycled, salvaged, reprocessed material in our designs as possible. Most strapping or webbing used in our bags are either remnants or reclaimed from another bag.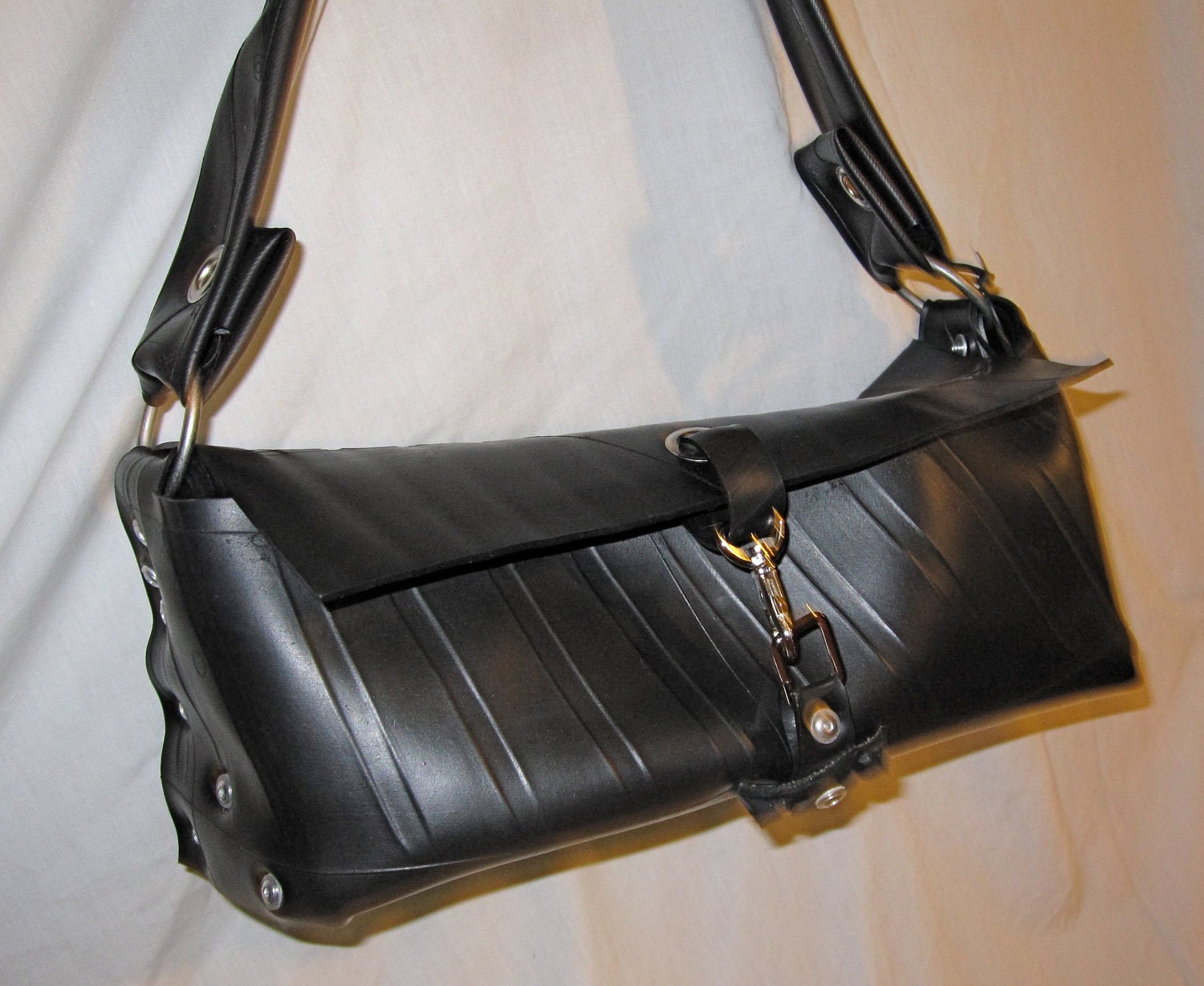 Rubber Revival
All of our sterling silver jewelry components are new. The rivets and grommets are new, but do contain a portion of recycled material. All of our shipping materials are 100% recycled or reclaimed, even the tape~ it is reclaimed vinyl adhesive remnants.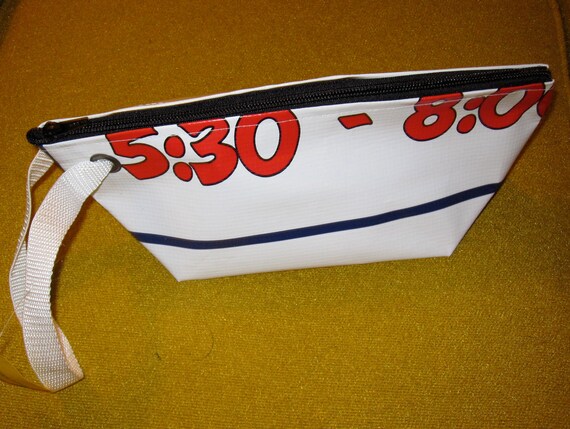 Revamped Vinyl
They are proud to proclaim themselves as
green and groovy
by promoting conservation and environmental stewardship and offering their eco-friendly, functional products to individuals, local/national non-profits and government agencies fostering recycling [and upcycling] education initiatives. Here's a local news interview with Richie, co-owner of Groovy Garbage:
We are grateful for their efforts and for having them as members of Upcyclers~ and for their generous donation to this week's giveaway! If you'd like to enter, we've made it easy for you!
First

, be sure you are a follower of this blog, Love 2 Upcycle~ not a follower? Just look to the left and click. Voila! You are a follower. But you haven't entered yet.
Now, you can choose

4

of the following ways to enter,

up to 4 times!
1. Favorite Groovy Garbage on Etsy, add them to your circle and tell us here about your favorite product!
2. Become a fan of Groovy Garbage on Facebook!
3. Follow Groovy Garbage on Twitter!
4. Pin one of their items to Pinterest!
5. Tweet or share this Giveaway!
Remember,

only 4 entries count

, and each one must be left in a separate comment! If you don't have an email listed on your bio, leave it here in one of your comments. Deadline to enter is

Midnight, February 9th!



Winner will be randomly drawn using Random.org's generator.
Good Luck!
Would you like to Sponsor a Giveaway on Love 2 Upcycle? You don't have to be a member of Upcyclers to be a sponsor, all Etsy sellers of upcycled or eco-friendly products are welcome! But of course, we'd love for you to join the team!