In September, Upcyclers were getting creative with our team's monthly creativity challenge! Our judge Patrice from
ITSYOURCOUNTRY
selected the upcycled medium:
vintage cutter textiles
...and we had some amazing entries!
See ALL of the upcycled entries on our
special Pinterest board
and see who won below!!! Patrice gives us a beauitful explanation of her medium selection and a detailed account of the winning entries!
~ ~ ~ ~ ~ ~ ~ ~ ~ ~ ~ ~ ~ ~ ~ ~ ~ ~ ~ ~ ~ ~ ~
"The medium I selected for the September Teamupcyclers creativity challenge is vintage cutter textiles.
My love for textiles and preserving even the smallest pieces of worn tattered holey vintage hankies, table linens, dresser scarves patchwork quilts, etc. that would get thrown out, tossed aside or used as moving blankets, is why I selected this medium for the September creativity challenge. I find I cannot even part with or throw out the smallest of damaged cutter pieces. They need to find a place in a creation for the future to enjoy. I love working with this medium and challenged the team to see what fun and creative ideas they could come up with.
The medium of vintage cutter textiles, which means vintage linens which includes embroidered dresser scarves, hankies, vintage tablecloths, napkins, quilts, doilies, feedsacks, vintage sheets, orphan quilt blocks and the like.
Definition of "Cutter"; Cutter meaning that the item is no longer useable for its original intended purpose, as it has holes, tears, spots, stains and is damaged in some way, but still has areas that are useable and can be "cut up" and reused in a new way.
There are so many vintage textiles out there, that have been used so lovingly over time for their intended use and eventually they get stains or holes and the fabric may start to get weak and tear, but still so much of the beautiful handiwork of embroidery, cutwork, patchwork, quilting, lace, crochet edging and fabric itself is still a piece of the past that still can be cherished and saved into the future and recycled, upcycled and created into something new and wonderful.
I absolutely loved looking at each and every entry and so much time, talent and thought has gone into each and every one. Thank you everyone, for using these beautiful pieces of the past to give them new life. A piece of the past will live on!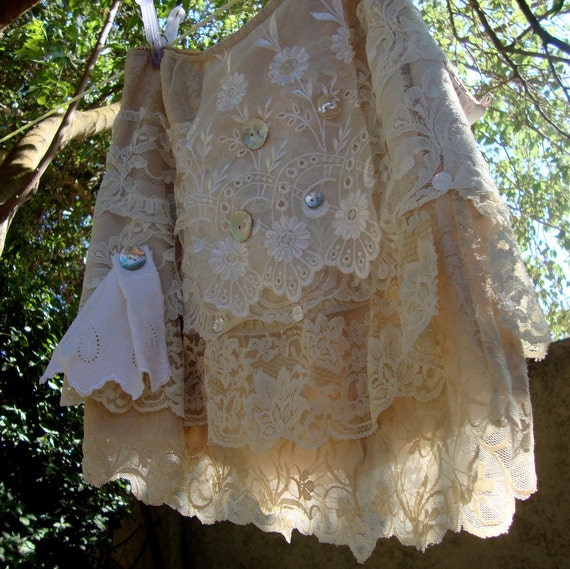 I selected this skirt because of the multiple selections of vintage cutter textiles to create this fun flirty slip skirt, using vintage table linen lace, pillowcase edging and curtain edging
Well thought out creation and .beautifully put together.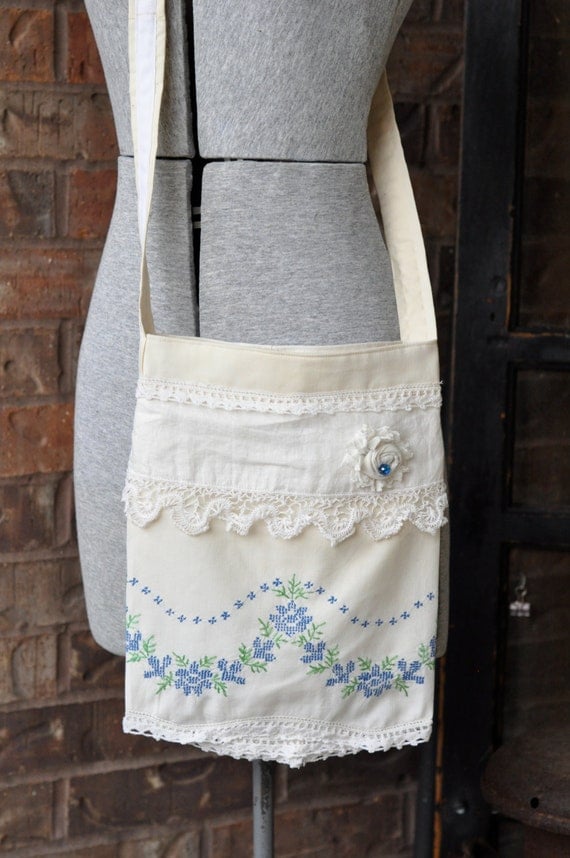 I selected this purse because of the unique utilization of a vintage pillowcase into a sweet feminine purse and is all created from a pillowcase; the inside lining to the charming embroidered flowers and hand crocheted edging on the outside from a vintage pillowcase. So shabby and sweet!"
Great job everyone : )
ITS YOUR COUNTRY
~Patrice