Our second Upcyclers Creativity Challenge was a huge success! So many ideas from so many Upcyclers! This month's judge, Marcy from
Rinnovato
, had a hard job! :)
Here is Marcy's synopsis of our second upcycled creativity challenge...
"I was very excited when it was my turn to choose the upcycling medium for June's creativity challenge, but it came upon me quickly and I found it be much tougher than I thought to settle on one material! I had so many ideas jockeying for position in my mind. I really wanted to come up with something unique, but at the same time something that could be turned into a quality new product that others might use or possibly even be able to list for sale in their shops.
I also wanted it to be something fairly easy to find and versatile to work with, so I found myself crossing many items off my list and coming back to the old standards. I have seen so many beautiful, cute and clever things done with a simple glass jar or bottle, and I know that in my house they take up most of the room in the recycling bin; so that was the winning selection.
The challenge was to use any type of recycled glass container... a mason jar, left over food jar, wine/beer/liquor bottle, baby food jar, candy dish, salt/pepper shaker, canister, etc....There were just so many creative possibilities for this project – candle holders, vases, lamps, specialty storage or display - especially when adding other materials into the mix. I was afraid I might be disappointing my teammates with such a basic selection, but the response was wonderful!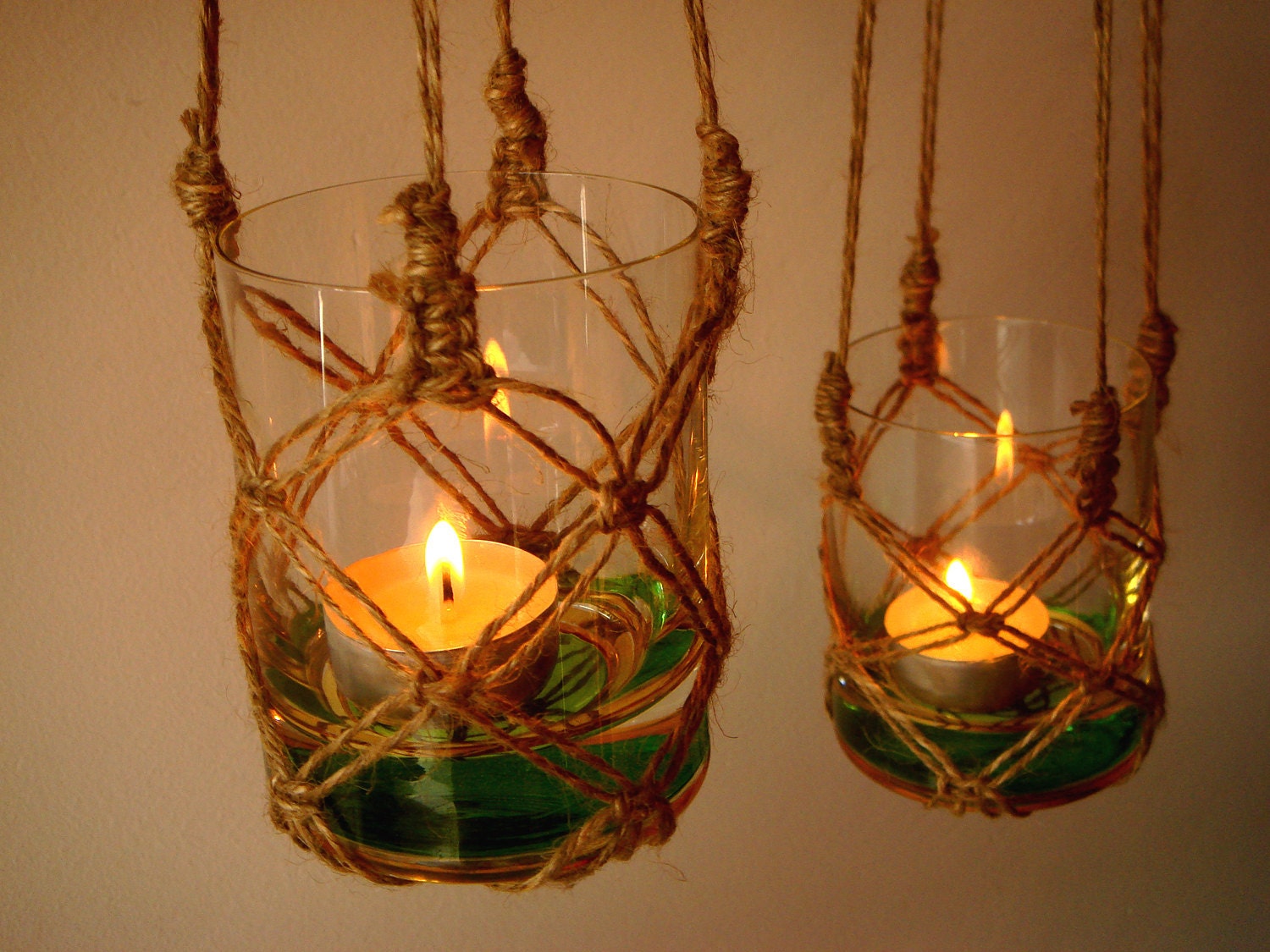 She used two orphaned whiskey glasses to make these pretty hanging candle holders. I loved the addition of the macrame rope. I could just picture these hanging on a cozy patio on a warm summer night!
Bee from The Wooden Bee

surely did not disappoint with her wonderful (and a bit nostalgic) upcycled night light.

She used a very cool Silver Patron tequila bottle (a keepsake from her 30th birthday) topped with a round cork and filled it with a strand of decorative white lights for an amazing look! (Not as simple as I made it sound – see her blog for the awesome tutorial!)
A simple concept executed so brilliantly. With the bright colors and professional logo, it looked like something you could find to purchase in any popular children's store right now. Adorable!
I loved how SweetSomeday and k5art used unique materials for their candle holders (vintage paper and patterned wall paper); Elodie thought "outside of the jar" for her yummy appetizers; and of course Super Sock made me smile, as usual, with the amazing magical unicorn snow globe! Patricia L. Johnson Glass Art was super artistic with her use of doilies as paint templates and handmade polymer clay knobs – done in black for a bold and chic look; and Jana from bhangtiez made a really sweet macrame plant hanger with a recycled glass container inside.
I truly enjoyed each and every entry and I was so impressed with the blogs that some upcyclers did along with their projects, highlighting the steps of their creative process... including great photos and a shout out to team Upcyclers!.... Thanks to all for the hard work and great participation!! ~ Marcy"
Thank YOU Marcy! We loved what talented Marcy made for the Challenge as well!
Let's continue upcycling! Team Members be sure to check out our discussion board! Our next challenge is underway, so
check out
what Nikki from
ThisNThat Creations
picked for July!
Happy Upcycling!
Bee
The Wooden Bee