This week's Giveaway is really Groovy~ Literally! We are so excited to partner for this giveaway with
Groovy Green Glass
, one of our innovative members of
Upcyclers!
But before we get started telling you more, let's talk about last week's sponsor and the winner of our giveaway from
Yellow Trailer!
Congrats to #24~ Dena and Adriana! Members of Upcyclers and the creative owners of

Spin A Yarn

, they also write a whimsical and informative blog focused on fiber arts called~ Everything but the Oink!
We want to thank all of those who entered and, especially, Mary from Yellow Trailer for giving away her industrial chic Wine Cork and Hardware Necklace! Now all we want to know is which one of you two will wear it~ or will mom and daughter share???
Now let's get back to

Groovy Green Glass~

coincidentally, owned by another creative genius named Deana! (different spelling, hah!) After learning of the massive amounts of wasted glass in the Myrtle Beach area landfills, Deana became "passionate about glass"! Driven by the fact that glass takes over 4000 years to break down in a landfill, she decided to partner with several area restaurants to rescue what she considered bottles too beautiful to waste. By cutting the glass and sanding the edges, she has created a line of glassware, unique and innovative, and very popular. You can actually 'Drink Straight From the Bottle!', as her company tagline states!
Jameson Shot Glasses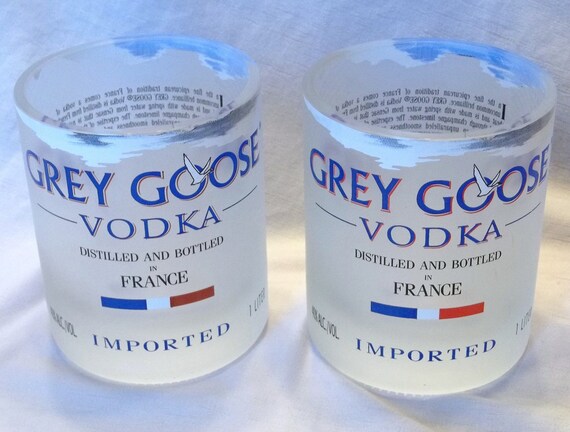 Grey Goose Glasses
Captain Morgan Table Lamp


Aside from her Etsy shop, Deana also has a company website that breaks down the hardcore facts about the impact that Groovy Green Glass is making:
"Based on an online energy calculator, for every 50 cases of glass that we keep out of the landfill, we are saving:
* 2.7 cubic meters of landfill space
* 328 kwh of energy (enough to light 1.1 houses every month)
* 1, 660 liters of water
* and permanently removing the impact of 1.2 cars on the road.
This is currently what we save every three weeks!"
Amazing to think what a difference just one company with one brilliant idea can make!
In addition to glassware, Deana has expanded her line of Groovy Green Glass to include planters, home decor and jewelry!
Jaegermeister Pendant Lamp


Etched VinoPonic Planter


Fireball Whiskey Pendant




And best of all, the earrings that Groovy Green Glass is giving away!
Green Wine Bottle Earrings




It's easy to enter and if you love them you'd better hurry!
First

, be sure you are a follower of this blog, Love 2 Upcycle~ not a follower? Just look to the left and click. Voila! You are a follower. But you haven't entered yet.

Now, you can choose

4

of the following ways to enter,

up to 4 times!
1. Check out Groovy Green Glass on Etsy and favorite the shop!
And tell us here about your favorite item in the shop!
2. Check out the website Groovy Green Glass and tell us here one of the five restaurants that 3G collects glasses from!
3. Become a fan of Groovy Green Glass on Facebook!
4. Tweet or share this Giveaway!
5. Pin one item from Groovy Green Glass on Pinterest!
Remember,

only 4 entries count

, and each one must be left in a separate comment! If you don't have an email listed on your bio, leave it here in one of your comments. Deadline to enter is

Midnight, January 26th!


Winner will be randomly drawn using Random.org's generator.
Good Luck!
Would you like to Sponsor a Giveaway on Love 2 Upcycle? You don't have to be a member of Upcyclers to be a sponsor, all Etsy sellers of upcycled or eco-friendly products are welcome! But of course, we'd love for you to join the team!